天父能做我們不能做的事,幫助更多災民,拯救更多靈魂。我們邀請您一起"給耶穌一分鐘",以禱告紀念黎巴嫩人,敘利亞難民,北部戰區難民,敘利亞國內流離失所者,庫爾德人,亞美尼亞人,巴基斯坦,孟加拉,老撾和緬甸難民等。
"Give Jesus One Minute," our Heavenly Father can do what we cannot — He can help more victims of disaster and save more souls! We invite you to join us to "Give Jesus One Minute," to remember in prayer Lebanese, Syrian refugees and "IDP's" (internally displaced persons — refugees who have not left their home country), Kurds, Armenians, Pakistanis, Bangladeshis, Burmese and Laotian refugees, and others.
有感動要參與服事但不知從何做起嗎?現在我們正在招募三個牧區的同工加入教會直播的行列!我們會為沒有經驗的您做專業的培訓,讓您不光只是參與教會服事,也能學習到新技能!今天就向您的小組長聯絡報名吧!
With church getting ready to provide online streaming Sunday service, we would need you to join our Media Team! No experience is needed, we will provide professional training! Contact your small group leader today to sign up for it!
Tuesday @7:30PM
歡迎弟兄姊妹回到我們位於Santa Ana美麗的建築物參加週二晚間的禱告會。到場時請遵守同工的指示,戴上口罩,保持社交距離。目前不會有線上同步直播。
We have resumed our physical prayer meeting. Make sure you follow the instruction, wear a mask, and keep social distance from each other. There will no longer be live streaming of prayer meeting online.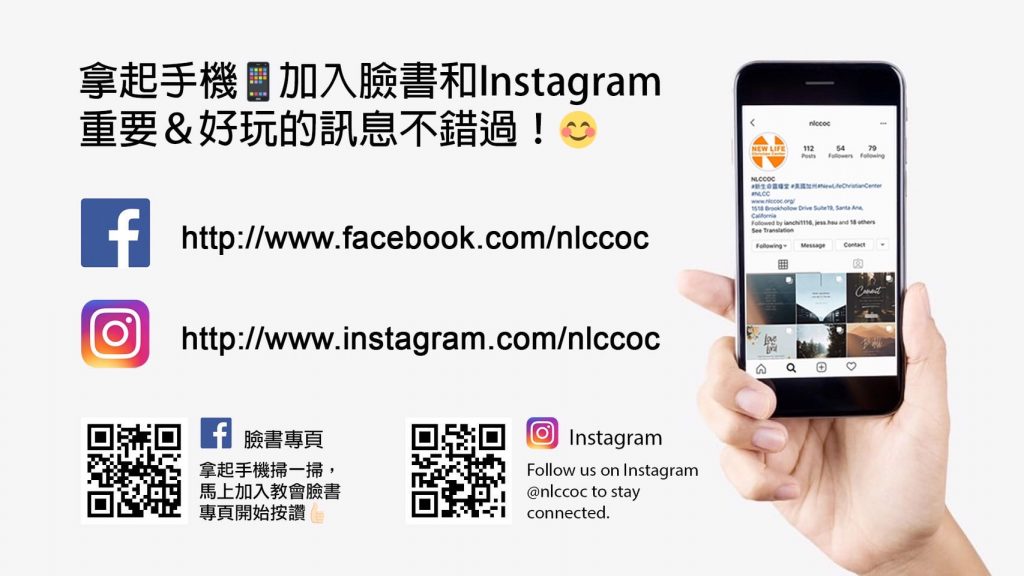 加入教會臉書和Instagram,重要訊息不錯過哦!
Follow us on our Instagram and Facebook, so you don't miss out on our news and events!